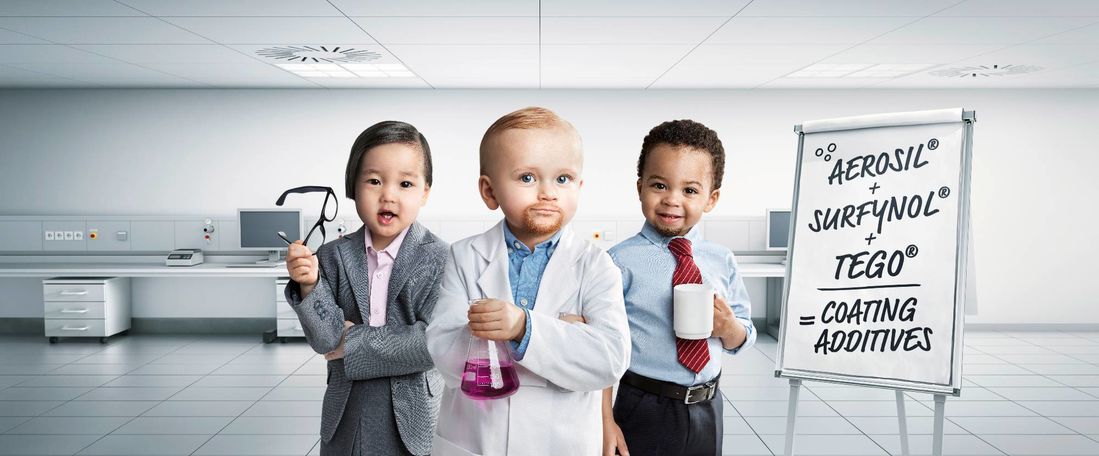 Press release
Products & Solutions
June 12, 2018
Meet the world's most experienced rookie
Say hello to a remarkable business partner: We combine decades of expertise with the enthusiasm and dedication of a start-up.
With the united powers of Silica products, TEGO® additives, and specialty additives of former Air Products, we offer innovative and tailor-made solutions that deliver real value for your coating formulations.
Coating Additives of Evonik.
Home of ACEMATT®, AEROSIL®, SURFYNOL® and TEGO®. And much more.
Company information
Evonik is one of the world leaders in specialty chemicals. The focus on more specialty businesses, customer-orientated innovative prowess and a trustful and performance-oriented corporate culture form the heart of Evonik's corporate strategy. They are the lever for profitable growth and a sustained increase in the value of the company. Evonik benefits specifically from its customer proximity and leading market positions. Evonik is active in over 100 countries around the world with more than 36,000 employees. In fiscal 2016, the enterprise generated sales of around €12.7 billion and an operating profit (adjusted EBITDA) of about €2.165 billion.
Disclaimer
In so far as forecasts or expectations are expressed in this press release or where our statements concern the future, these forecasts, expectations or statements may involve known or unknown risks and uncertainties. Actual results or developments may vary, depending on changes in the operating environment. Neither Evonik Industries AG nor its group companies assume an obligation to update the forecasts, expectations or statements contained in this release.