Company
Evonik Distribution Center in Guarulhos - Sao Paulo
The warehouse prioritizes innovation and sustainability, two strategic pillars that drive Evonik's growth in the Central and South America Region.
Our Distribution Center is present in the city of Guarulhos, São Paulo (Brazil) since 2002. On February 7th, 2023 we transferred our logistics operation to a large and modern space, in partnership with the Grupo Toniato.
"The expansion and modernization of the CD confirms Evonik's commitment to providing logistic services of excellence to our customers in Central & South America and supporting Evonik's business growth in the region," says Dr. Hendrik Schönfelder, Central & South America CEO.

Our logistics capability
With high technology, the Distribuition Center - which handles most of the company's products - is run by Ebamag, a company of the Toniato Group specializing in logistic solutions for large players in the chemical industry. The new warehouse is located within a logistics complex of more than 50,000 m2 and has currently 15,000 pallet positions, with a capacity for 23,000.  
The number of docks has been tripled (from 4 to 12) and the fully racked vertical storage space provides agility in the separation and location of the products, in addition to improving the accuracy of the items. This way, we expect to further increase on-time deliveries from 91% in 2022 to 95% in 2023.  
The agility to report and control our main inventory in the region is also supported by cutting edge software such as WMS (Warehouse Management System) and TMS (Transportation Management System) comprising digital solutions to increase productivity and quality of transportation, logistics, and storage services, as well as to guarantee a delivery management system in real time to 100% of the sales.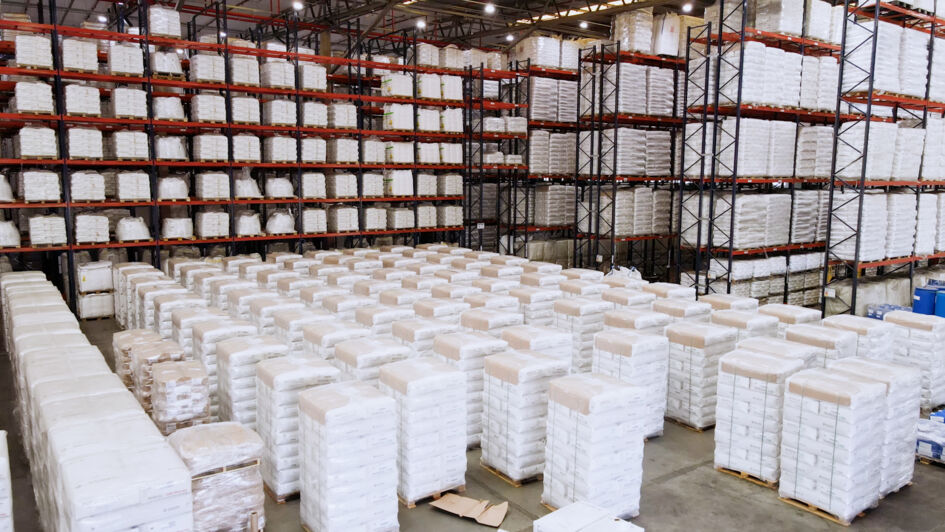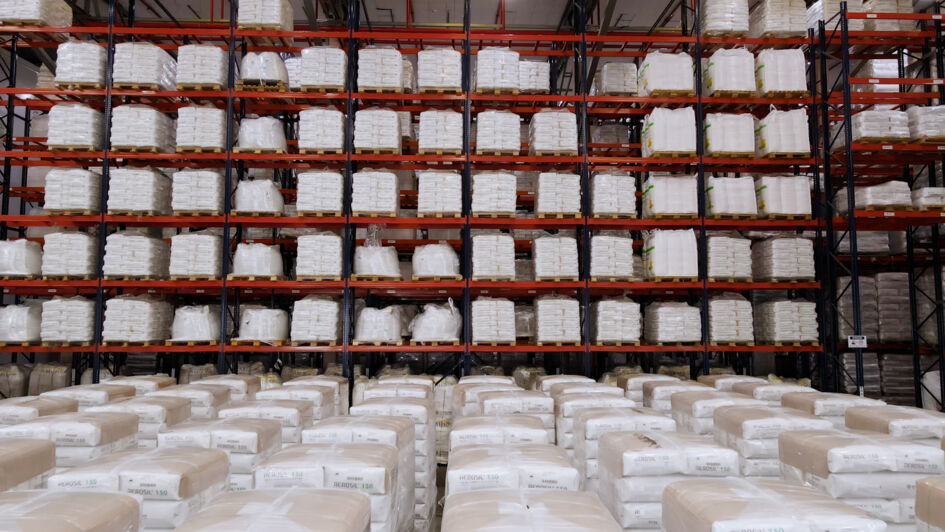 A sustainable vision
In addition to the high-tech aspect, Evonik also prioritized its sustainability concepts to ensure an environmentally responsible operation. For instance, it replaced fossil-fuel driven forklifts with electric alternatives and installed specially painted translucent tiles to gain significant savings in electricity.
"The sustainable vision is present in all fields of operation and we encourage all possible sustainable practices such as selective trash collection, waste recycling, water reuse etc. Besides, we can already say that part of our truck transportation will be replaced with rail, an option that is more environmentally friendly," stresses Ricardo Toscano, Head of Supply Chain at Evonik Central & South America.
With ISO 9001certification and full compliance with all requirements regarding sustainability and storage legislation, our DC Guarulhos has special areas for flammable products and products with special requirements such as, for example, pharma products.  
"The high level of security and specificities gives us the edge, even inside the Evonik Group: the advantage of meeting, in a single location, the distribution demands of all the company's business lines," says Fábia Dias, Senior Manager Supply Chain. By fully complying with the 'One Evonik' motto, the DC stores and distributes from inputs to the food and pharmaceutical areas to ingredients for paints or tire production, to name only a few markets.
Vice President Operations for Central & South America region, Marcio Araki, highlighted the new DC's focus on increasing performance. "Using technology in an efficient operating model and in conjunction with an experienced company in the chemical industry enables us to achieve the expected growth levels for our region.